Adif, the Administrator of Railway Infrastructures, is a state-owned company that answers to the Ministerio de Fomento. Adif plays a leading role in promoting the railway sector, working towards converting it into the ideal mode of transport and facilitating access to the infrastructure under fair conditions.
Its aim is to promote the Spanish railway system by means of the development and management of a safe, efficient and sustainable infrastructure to the highest quality standards in environmental terms.
Adif is in charge of:
Administrating rail infrastructures (tracks, stations, freight terminals, etc).
Managing rail traffic.
Distributing capacity to rail operators.
The collection of fees for infrastructure, station and freight terminal use.
All of the foregoing is accomplished in a spirit of responsible social commitment to the general public. A social responsibility that is founded on ethical principles as regards management and the role of the company in society. Transparency and dialogue with groups of interest forms the backbone of this policy, the end goal of which is to contribute, from an integrated perspective, to the sustainability of the development provided by our activity.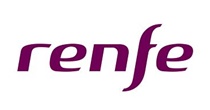 Renfe is a state-owned passenger and freight rail transport operator overseen by the Ministerio de Fomento.
Renfe Operadora provides passenger and freight transport services, guided by the principle of safety, undertaking its activity with the customer clearly in mind, with criteria of quality, efficiency, profitability and innovation, and pursuing an increase in its share of the rail transport market on the basis of a strong commitment to society and the development of its employees.
Alstom develops solutions that are perfectly tailored to the demands of a variety of market segments, combining the most comprehensive range of products and services available in the rail industry with unmatched international experience.
It expertise covers urban, suburban, regional, mainline and freight solutions, along with a comprehensive knowledge of rolling stock, infrastructure, signalling and services.
This puts us in a position to offer systems that feature a seamless blend of these diverse technologies, ensuring optimal interfaces between them, along with flexible implementation and real synergy in innovation.
Alstom Transport recorded sales of 5.2 billion euros in the fiscal year 2011-2012. Alstom Transport is present in over 60 countries and employs 24,700 people.
Schneider Electric is pleased to announce that it is joining forces with Telvent to offer more complete and efficient solutions to their customers, following the successful completion of the acquisition of Telvent by Schneider Electric.
Telvent strong positioning in infrastructures and best-in-class software & IT capabilities fits particularly well with Schneider Electric energy and process management expertise and global presence. It opens the way for customers to new enhancements and unique offerings in the following markets:
Within Smart Grid, Telvent grid monitoring and control software complements Schneider Electric field level offer, to enable a more efficient, flexible and secure grid;
Within Oil & Gas and Water infrastructure, Telvent complements Schneider Electric integrated architecture EcoStruxureTM to deliver a leading information management solution for piloting, monitoring and optimizing networks;
The world-class Telvent weather information services will add significant value across all existing and future Schneider Electric offers, delivering considerable operational benefits in Energy, Transportation, Water… and many other markets;
In Transportation, Telvent intelligent traffic solutions complements Schneider Electric offer in Electrical Vehicle, Security Monitoring and Energy Management for Smarter Cities;
Telvent's strong Agriculture and Global Services businesses will be further expanded through Schneider Electric global coverage.
Grupo Cobra Ferrocarriles, design, engineering, installation, start up and maintenance services to the railway sector, including high-speed lines and urban network lines for undergrounds, light trains, trolley-buses and trams in specialities such as:
Electrical installations
Signalling
Railway security
Communications
Access control services
Escalators
Lighting
Ventilation
Climate control