DESCRIPTION
LogyTel provides Control Unit ASFAD, and Beacon ASFAD, as part of ASFA System (Signals Announcement and Self Brake)
The main goal of the CU is made interface between the light signal and the Beacon ASFAD in nonintrusive mode.
The ASFA onboard system, using the information read from the Beacon ASFAD will generate controls in continuous mode; restraining the speed of the vehicle and it prevent unsafe conditions.
The CU is designed according to safety standards EN 50126, EN 50129, EN 50128 and EN 50159 getting a level of Safety, Availability, Reliability and Maintainability according to railway equipment planned for these features.
FEATURES
Sensing the aspect of the lateral signal non-intrusively, with dual technology.
The CU is ready to use with several types of signal technology; Incandescent, Halogen, LED.
Safety Level: SIL 4.
Extended temperature range.
Monitoring ASFAD Beacon.
Robust and compact design specifically created to ensure the integrity and correct functioning under normal conditions of the devices installed on track.
Maintenance communications Interface for predictive maintenance over PowerLine, allowing to know the situations in real time, also the beacon ASFAD.
STANDARD
EN 21308: High voltage Essays
EN 30034: Electromagnetic compatibility (EMC) to radio paging receiver ERMES European Radio Message System)
EN 50125-3: Environmental conditions for equipment. Telecommunications equipment and signal.
EN-60068: Environmental tests.
EN-60068-2-6: Test Cy: Damp heat steady state, accelerated test primarily applicable to components.
EN-60068-2-17: Test Q: Watertightness.
EN-60068-2-27: Tests – Test Ea and guidance: Shoc.
EN-60068-2-52: Test Kb: Saline fog, cyclic test (sodium chloride).
EN-60068-2-66: Test methods. Cx Test: Testing continuous moist heat (steam pressurized unsaturated).
EN 50129: Railway applications. Communication, signalling and processing systems. Safety related electronic systems for signalling.
EN 50261; EN 29000-3; EN 50081; EN 50082
ELECTRICAL FEATURES
| | |
| --- | --- |
| Consumption | < 13W |
| Input Voltage | 220Vac (80-265Vca). |
MECANICAL FEATURES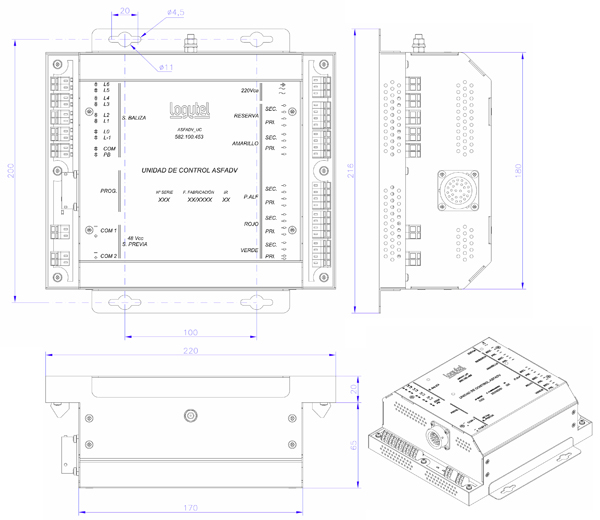 IP55 weatherproof outdoor cabinet
Temperature range: from –40ºC to +65ºC
Life expectancy > 25 years.