DESCRIPTION
LogyTel provides Beacon ASFAD, and Control Unit (CU), as part of ASFA System (Signals Announcement and Self Brake)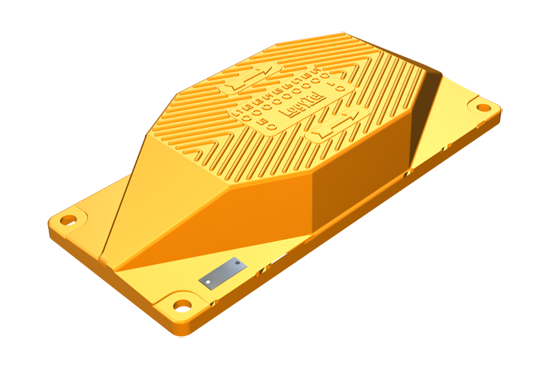 The main goal of the Beacon ASFAD is made possible the train read the information about the punctual aspect, according to the track conditions. The beacon ASFAD assign a frequency to each information and the train by inductive coupling reads the signal. (Capture Subsystem installed on the train).
ASFA onboard system, using the information read from the Beacon ASFAD, will generate controls in continuous mode; restraining the speed of the vehicle and it prevent unsafe conditions.
The Beacon ASFAD at its outer part is provided with a protective cover made of a plastic material with high impact resistance and inside it has a block of epoxy material where all the electrical circuit devices are placed.
FEATURES
Passive LC circuit. Multiple aspects (11 frequencies).
Ensures operation and ensures interchangeability with existing interfaces ASFA Track side System and read Subsystem.
Ensures inductive coupling with the reader (part of the reader subsystem).
Stability against thermal variations.
Signal of beacon disconnected.
Robust and compact design specifically created to ensure the integrity and proper functioning of the Beacon ASFAD under usual conditions of the devices installed on track.
RFID tag identification.
STANDARD
EN 21308: High voltage Essays
EN 30034: Electromagnetic compatibility (EMC) to radio paging receiver ERMES European Radio Message System)
EN 50125-3: Environmental conditions for equipment. Telecommunications equipment and signal.
EN-60068: Environmental tests.
EN-60068-2-6: Test Cy: Damp heat steady state, accelerated test primarily applicable to components.
EN-60068-2-17: Test Q: Watertightness.
EN-60068-2-27: Tests – Test Ea and guidance: Shoc.
EN-60068-2-52: Test Kb: Saline fog, cyclic test (sodium chloride).
EN-60068-2-66: Test methods. Cx Test: Testing continuous moist heat (steam pressurized unsaturated).
EN 50129: Railway applications. Communication, signalling and processing systems. Safety related electronic systems for signalling.
EN 50261; EN 29000-3; EN 50081; EN 50082
ELECTRICAL FEATURES
| | |
| --- | --- |
| Consumption | < 1W |
| Input Voltage | 6Vcc ± 2 |
MECANICAL FEATURES
IP Protection grade
IP 68
Protected against dust entry
Protected against water immersion to 1m
MTBF at 35ºC 927.297,12 hours