DESCRIPTION LED SIGNAL
The railway LED signal designed by LogyTel can adapt to the different types of signals for replacement of incandescent lamp, without changing the signal head, and thus, saving money when signals are already installed.
Led signal is designed with High Power LED Technology and features that provide important advantages to signalling railway infrastructure as high brightness, power consumption, service life and maintenance.
There are three important modules inside the Led signal: Optical (Leds) Power (power resistances used to compensation of current) and Control (to carry out the switching between day/night modes and monitoring of the nominal values of voltage and current).
The LED light signal has been tested and approved by certified laboratory.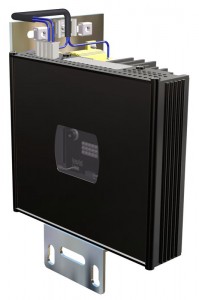 LED SIGNAL MAIN FEATURES
Led signal is mechanically and electrically compatible with existing incandescent bulb technology.
Led signal use High power LED's.
Wide viewing angle: 115° with reduced angle using Fresnel lens (Fresnel lens is included in the signal head and not in the Led signal)
Lineal consumption as incandescent lamp.
Two operating modes (day /night).
Switching between mode operating day / night by changing the voltage level.
Temporary disconnection when the voltage supply value is less than 5 VCA (voltage protection)
Permanent disconnection when a hardware fail is detected or the current drops below 40% of nominal value in the lighting circuit.
Possibility to control the current of cold fusion.
Operation at constant current for operating in both modes day / night.
CERTIFICATE
ISO 9001: Certification of quality management systems.
ISO 14001: Environmental Management System Certification
UNE-EN 21308: High voltage Essays.
UNE-EN 50125-3: Environmental conditions for equipment. Telecommunications equipment and signage.
UNE-EN 50121-4: Emission and immunity of the signalling and telecommunications apparatus
UNE-EN 60068-2-6: Test Cy: Damp heat steady state, accelerated test primarily applicable to components.
UNE-EN 9227:2007: Corrosion tests in artificial atmospheres – Salt spray tests (ISO 9227:2006)
UNE-EN 60068-2-66: Test methods. Cx Test: Testing continuous moist heat (steam pressurized unsaturated).
UNE-EN 61000-4-3:2007 + A1:2008: Testing and measurement techniques – Radiated, radio-frequency, electromagnetic field immunity test
UNE-EN 61000-4-4:2005 + A1:2010: Testing and measurement techniques – Electrical fast transient/burst immunity test
UNE-EN 61000-4-5:2007: Testing and measurement techniques – Surge immunity test (IEC 61000-4-5:2005).
UNE-EN 61000-4-6:2009: Testing and measurement techniques – Immunity to conducted disturbances, induced by radio-frequency fields
UNE-EN 61000-4-8:1996 + A1:2001: Testing and measurement techniques – Power frequency magnetic field immunity test.
MECHANIC FEATURES
MTBF FLC TO 25ºC OPERATION TEMPERATURE

COLOR

MTBF (hours)

MTBF (years in continuous operation )

Warm white

70.269,24

8,02 years